Students! Help us decide which scientists and engineers should take part in the next event, and you could win a £20 voucher. All you need to do is take 2 minutes now to judge these 12 sentences.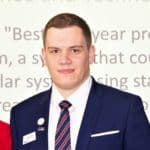 Hi everyone! Thank you for a great couple of weeks, and what a surprise to win! I just wanted to say thank you for voting for me, and allowing me to be a part of this I'm an Engineer zone.
The questions were really good, and made me think so much about what I do, and how my job affects others. Some of the questions definitely stumped me. It helps me with my future STEM ambassador work, as when I am working with groups in the future, I know what you guys want to know, and I can work that into sessions.
I hope I managed to inspire some of you to go into a STEM related career, and if not then I gave you an insight into what an engineer actually does on a day to day basis, and to see what sort of jobs are out there. The others on the chats were great as well, and I was even interested in some of the answers they gave. It was a really tough competition, and when the questions are coming in fast it can often be hard to keep up, so thank you all for staying with me, and thanks to the moderators for controlling the flow of questions.
I also want to thank the teachers out there, that are giving this opportunity for young people to directly talk to real engineers and scientists, it is so important! There are so many young people out there with preconceived ideas about what it means to be an engineer, and schemes like I'm an Engineer are really helping to change that. To all the teachers, you have some super interested kids, and we need more people like you to keep that going!
To my fellow engineers, Nadine, Matt, Emma, Daniel, and Allanah, it has been great to share chats with you, and I hope to speak to you all again at some point. There have been some great chats, and it has been super interesting reading what you do on a day to day, and how it differs from what I do. From what I have seen you all did an amazing job!
Finally, a massive thank you to I'm an Engineer!  They set all of this up, and keep it going. Moderating session and questions, keeping chats sensible and making sure it all runs smoothly. It has been a great event, and I will be recommending it to others. So good luck for future events, and I hope to see some of you in the workplace in a few years time!
Engineers: Up for the challenge?
Want to answer some downright weird questions? Maybe even learn things from students?
I'm an Engineer, Get me out of here runs every March, June, and November.
Find out more and apply to take part
It only takes 2 minutes and one sentence to apply!
---