Profile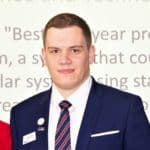 Ryan Smith
Curriculum Vitae
Education:

Plymouth University, and Sturminster Newton High School

Qualifications:

MEng in Robotics from Plymouth University

Work History:

worked at Cubik Innovation in Bristol and Charles Endirect in Wincanton (making parts for street lights)

Current Job:

Electronic Engineer

Employer:

RAL Space, part of the Science and Technology Facilities Council, part of UK Research and Innovation. I work in the Imaging Systems Division, in the Advanced Electronics Group. I might have the longest job title in history.
About Me

I make cameras that go to space

Read more

Hi, I'm Ryan. I Live with my partner in Didcot, in South Oxfordshire. I am an electronic engineer with a degree in Robotics from Plymouth university. I spent a placement year in Bristol, at an electronic design house called Cubik Innovation. It inspired me to become an electronic engineer, and with a keen interest in aerospace and defense I have now gone into the space industry. Working at RAL space at Harwell campus, I am part of a team that develop the electronics for cameras and scientific instruments that go to space. RAL space is part of the Science and Technology Facilities Council, and I am based at the biggest site, known as the Rutherford Appleton Laboratory.

My Work

I design electronics for scientific instruments that go onto spacecraft

Read more

Space is this new and exciting world that we have yet to fully explore. As a species we have gotten as far as the edge of the solar system, and we have sent a probe to every planet, but we still haven't landed anything on all of them, we still haven't physically picked up water on another planet (we have on the Moon). Where I work in RAL space, we have a world class heritage when it comes to space missions. Missions you could have heard of like Hubble, James Webb Space Telescope, Cassini, Rosetta, RAL space have developed cameras for all of these missions. Overall RAL Space has worked on over 210 space missions in some capacity, recently we landed an instrument on Mars! I get to design electronics that go into these instruments. Driving things like cameras can be difficult in space, it is very cold (or sometimes very hot), there is often lots of radiation and other things flying around at thousands of miles per hour. This needs to be thought about before you send something to space, because if it breaks it is very very very expensive to go up there to fix it.

My Typical Day: Taking requirements from space agencies, and developing solutions.

Read more

Most of the time the missions that I work on are from groups such as the European Space Agency or NASA. They put out big competitions for groups to build certain instruments, so sometimes I could be part of the group that is developing ideas for how to solve the problems that they want solving. When we have a mission, there is a huge amount of design work to be done, finding parts to use, designing circuits, testing that they work, and building prototypes, this takes up most of my time as an electronic engineer. There is also the phase for when it is built and it is getting ready to go to space. We need to check that it works in every possible situation, including if it works in the vacuum of space. We can simulate that here in our test facility, so some of my time is spent in labs making sure what we have built works as it should.

What I'd do with the money

It would go towards outreach projects.

Read more

There are a few outreach projects I am working on at the moment, so it would go towards one of them. I am part of a team developing a small "mars rover" for use in schools and outreach sessions here on site. It is designed to teach young people how rovers work, and what it takes to control one. Things like the physics it can do is not always obvious to everyone, things like how do you get round the issue of a 24 minute round trip for any communications? The cost of each of the final design will be around £500 each once fully built, so I think I would build one more so I can run more outreach sessions. It also gives me the opportunity to test out some new modules and ideas for how to make future ones cheaper and easier to use.

My Interview

How would you describe yourself in 3 words?

inquisitive, ambitious, passionate

What's the best thing you've done in your career?

Getting a job in the space industry!

What or who inspired you to follow your career?

My design technology teacher in high school pushed me to take up engineering

What was your favourite subject at school?

Physics

What did you want to be after you left school?

I have wanted to be an engineer for as long as I remember.

Were you ever in trouble at school?

I think I got an overdue library book fee once.

If you weren't doing this job, what would you choose instead?

I have interests in robotics, but it would still have to be the electronics side.

Who is your favourite singer or band?

Nickleback (don't hate me)

What's your favourite food?

Cheeseburger and fries

What is the most fun thing you've done?

I once ran through a field of wheat

Tell us a joke.

People are usually shocked when they find out i'm not a good electrician
---
---
---